---

Die perfekte Welle auf den Seychellen?
WHY NOT?!
---
Willkommen im Paradis! Die Seychellen halten was sie versprechen: kristallklares Wasser, Traumstrände, tropische Temperaturen, Regenwald und unbeschreiblich schöne Hotels. Mitten im Indischen Ozean gelegen, sind die Seychellen innerhalb von etwa 10 Stunden Flug zu erreichen. Wir sind bereits zum dritten Mal auf der Inselgruppe und diesmal mit der Frage, ob die Seychellen sich auch zum Surfen eignen.
Bei unseren vergangenen Besuchen haben wir kaum Surfer gesehen, und wenn waren es Einheimische, die die Buchten von Kindesbein an kennen und Spaß haben sich nach der Schule in die Fluten zu stürzen. Wir hörten jedoch hin und wieder, dass Touristen hierher kommen um das Surfen zu lernen. Bei der Recherche nach einer Surfszene fanden wir die Surfschule iSurf, die einzige auf den Seychellen. Wir sind neugierig und buchen einen Instructor, der mit uns zum nächst gelegenen Surfspot fährt.
iSurf steht in Kooperation mit vielen der großen Hotels, sodass ganz unkompliziert ein paar Surfstunden vor Ort gebucht werden können. Wir treffen uns mit Ruben. Er ist Anfang 20, auf Mahé aufgewachsen und neben dem Surfen beherrscht er auch das Stand Up Paddeling in hohen Wellen, als hätte er nie etwas anderes getan. Mit ihm fahren wir in die im Süd-Westen gelegene Bucht BAIE LAZARE. Hier gibt es keine Strömung, wenig Steine und Korallen, die Paddel Distanz ist gering und die Wellen sind berechenbar. Auf dem Wasser überrascht uns wie aus heiterem Himmel ein Regenguss. Eine große Wolke hat sich über die Berge rechter Hand der Bucht geschoben und während am Strand die Sonne scheint, geht der Schauer direkt ins warme Meer nieder. Ein Naturschauspiel, dass unsere Zeit in den Wellen zu einem unvergesslichen Erlebnis macht.
Obwohl die Kurse in der Surfschule gut gebucht werden, sieht man eher weniger Surfer auf der Insel. Für uns ist der Surfspot in Baie Lazare ausreichend. Kleine Wellen bis zu einem Meter sind für uns perfekt. Vermutlich braucht es noch etwas um die Seychellen als Surfspot bekannt zu machen, wohin gegen schon viel häufiger das SUP zu sehen ist. Da wir unser eigenes im Gepäck haben, kommt dies jeden Tag zum Einsatz. Ob in den Wellen oder in den seichten Buchten, für uns neben dem Surfbrett das perfekte Sportgerät in paradiesischer Kulisse.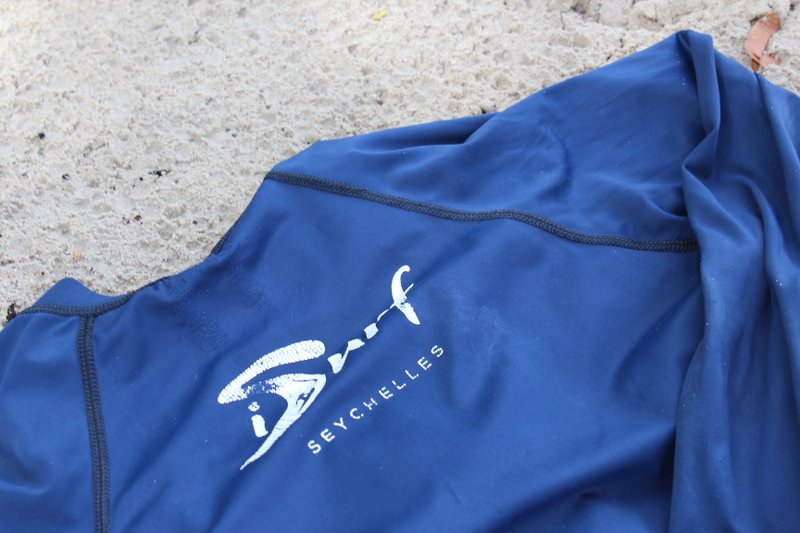 Ins Leben gerufen hat iSurf vor 2,5 Jahren der Südafrikaner James. Er hat sich seinen Traum war gemacht und die erste und einzige Surfschule auf den Seychellen eröffnet. Wir haben ihm nicht nur zum Surfen, sondern auch zum "SUPing" ein paar Fragen gestellt.
It is our third time in the Seychelles. Some years ago, there have been only a few local surfers. Now are coming people to learn surfing here at your surf school Isurf. Why are the Seychelles a good place especially for beginners?
James: The Seychelles has beautiful water temperatures year round, with gentle waves constant through the year. There is rarely a day we can not find suitable waves for a beginner surfer to experience pristine conditions.
The Seychelles does not get enough consistent swell to be thought of a surf destination but rather as a great add on to a holiday. When the surf is good here there are suitable waves for advanced surfers and for intermediate and beginner surfers, Seychelles offers clear safe waters and manageable waves year round.
I consider the Seychelles to be one of the best learn to surf locations in the world due to the warm safe waters, no crowds, and stunning beaches. It all works together to create a lifetime experience.
iSurf can give you an experience of the Indian Ocean beauty of the Seychelles that few get to see. Safely taking you to beautiful locations suited to your ability and the conditions of the day.
Imagine a day with stunning white sand, the beautiful Indian Ocean, catching your first waves, and finishing with a cool drink (we might even have some coconuts to crack open).
We offer something special and love what we do!
Where are the best places for beginners? And where do you have to go here on Mahé when you are an advanced Surfer?
James: That depends on the conditions of the day, time of year and ability of the guest.
And what about the other islands? Are there also some good spots?
James: Yes, at times there are various surf locations around the Seychelles islands that offer very good surf.
When is the best surfing season?
James: Surf is generally bigger and stronger through the SE monsoon and smaller and cleaner during the NE monsoon.
The new trend are the SUPs. Your instructor Ruben looks like a pro when he is in the ocean and riding the waves. Is it more difficult then surfing? Or easier?
James: Yes, SUP surfing involves all the technical aspects of stand up paddling like fast turns for positioning and long boarding surf skills on the wave.
What do you think? Are the SUP the new big thing?
James: SUP'ing has been very popular for about 5 years now and is second only in growth to kite surfing in the water sports industry.
How does a perfect day look like on the Seychelles for you?
James: For me, my work is my play, so waking up early and going for a surf in some strong swell on the west coast followed by a coconut and banana breakfast.
Catching up with some friends for a barbecue for lunch and having a few beers at Eden Island in the evening, sleep and repeat would be good.
Do you have tips for some nice places here on Mahe?
James: Kaz Creole is a nice restaurant down the south as is surfers beach restaurant. The resorts are all worth visiting including Kempinski, Four Seasons, Avani, Banyan Tree and Constance Ephelia.
What else than surfing can you do here in the paradise?
James:  You can do many things. Diving, boat trips, scenic tours, hiking, photography, yoga, sailing and of course rock climbing.
Thanks for this interview and the great surf experience here on the Seychelles!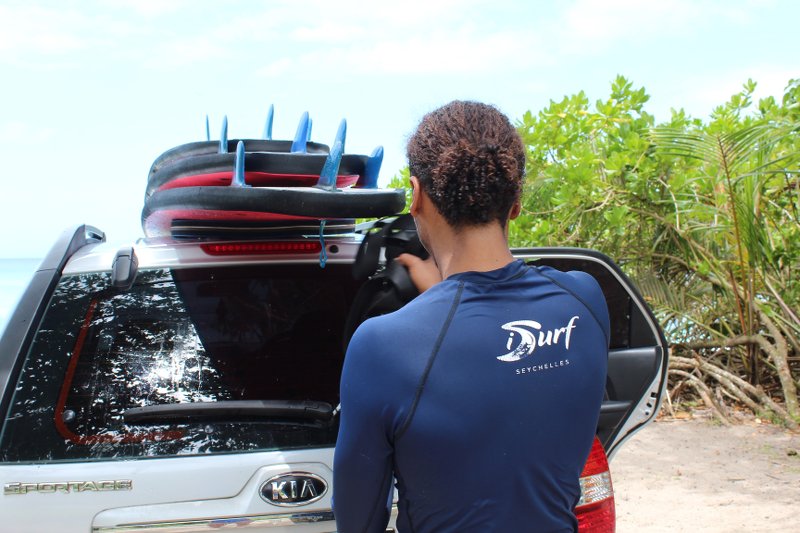 ---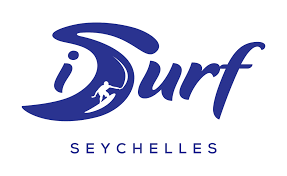 Facebook: www.facebook.com
Instagram: isurfseychelles
Twitter: isurfltd
---
Fotos: © Carolin Samson
---
Ihr wollte noch mehr über SUPs erfahren? Jantra hat für uns ein Board von APEX getestet.